News
---
Fabian Re-records Tiger, His Million Seller Gold Record Chart Topper For the Benefil of Abused Big Cats.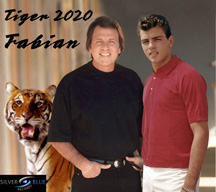 'Tiger 2020' was just released on Silver Blue Records and is available on iTunes.
TIGER 2020 by FABIAN
https://www.youtube.com/watch?v=JlWQ0ab35ek
---
Fabian named as one of Gladys Magazine's Most Inspiring People in the 2019 10 Year Anniversary Issue, Special Editor's Edition. gladysmagazine.com
Fabian's wife Andrea Patrick Forte appears on the Cover of Gladys Magazine
---
Fabian's Cover January 1, 2016

Fabian on the Cover of Gladys Magazine with his interview in side and the Icons 2015. gladysmagazine.com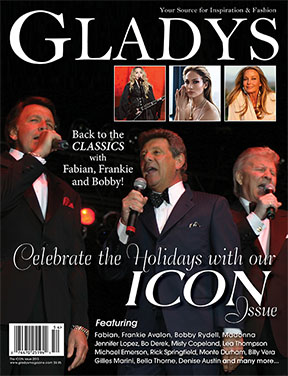 ---
Bobby Vee and friend at home July 16, 2015

Bobby Vee and a friend relax at home watching his friend Fabian in North To Alaska on TV.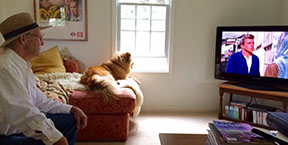 ---

Veteran Rocker Fabian Forte Recovering

VETERAN ROCKER FABIAN FORTE
RECOVERING FROM HEART SURGERY

Former Chancellor Records recording artist and Philadelphia, Pennsylvania native Fabian Forte has been sidelined from live performance for a brief season, as he recovers from heart surgery performed in Pittsburgh on 07 April.

Forte, who tours regularly with fellow Philadelphia veteran rockers Bobby Rydell and Frankie Avalon, underwent an aorta route, a valve replacement and a bypass. He is presently recovering at home.

An influence on such artists as the New Colony Six (who acknowledged him in the sleeve notes of their second album, Colonization) and Dion DiMucci (who covered his material), Forte was responsible for one of rock and roll's defining moments with his utterly stupendous 1959 Chancellor label single, Turn Me Loose. Here is a live American Bandstand clip from that year, in which Forte reprises that classic moment:
https://www.youtube.com/watch?v=ss3xVRCEf6Q


Posted by:
Blitz Magazine
https://www.facebook.com/blitzmagthinkingpeople/timeline
---

Fabian had heart surgery on April 7th

From Andrea Patrick Forte -
I wanted to let everyone know that my husband Fabian had heart surgery on Monday April 7th at Shadyside Hospital in Pittsburgh. He came through his surgery beautifully-a surgery that typically takes six hours he came through in less than four and is now recovering. He had an aorta route, valve replacement and one bypass done. We have been monitoring this for a few years now and this was the time t...o have this done. We would like to thank his surgical team, his heart doctors, nurses, staff of Shadyside and our family and friends who knew this was happening. We hope that all of you will join in to send your thoughts and prayers as he continues in his recovery. He will be back on stage performing again in a few months.
As his wife, I'd like to say this. I've always known he was a survivor his entire career and life and now he's not only the love of my life-he is my HERO.
---
BURBANK, Ca., April 8, 2013 - Actress Annette Funicello, long-time Disney and Beach Party star, passed away on Monday April 8 at Mercy Southwest Hospital in Bakersfield, CA, at the age of 70. She died peacefully from complications due to Multiple Sclerosis, a disease she battled for over 25 years. Beloved by television viewers in the 50s for her stint on Disney's original The Mickey Mouse Club, and by film buffs for her numerous roles in a series of popular teen-oriented movies in the 60s, Funicello became a pop culture icon.
---
Counter Culture: Fabian's Bistro puts artisan's touch on homestyle Italian fare.
---
Okay, you youngsters are not going to know who I'm talking about, but those of you my age who were raised on Laverne and Shirley are going to know and those of you who were teens in the 60s are going to know.
---
Bob Marcucci, Fabian's first manager:

Bob Marcucci, who discovered and managed Frankie Avalon and Fabian, who started Philadelphia's Chancellor Records with a $10,000 loan and whose story was loosely brought to television in the movie, "The Idolmaker," died Wednesday (March 9) in Ontario, California at the age of 81. Ironically, MGM had just announced their intentions of doing a remake of "The Idolmaker" film. His later clients included actress Amy Dolenz, daughter of Monkee Micky Dolenz. He also co-produced the Bill Murray film, "The Razor's Edge."
---
It was almost unimaginable, Frankie Avalon, Fabian and Bobby Rydell all performing on one stage at Morongo Casino Resort. They opened the act in unison with Bobby Rydell, Fabian and Frankie Avalon all singing the theme song from American Bandstand.

---
Heartthrobs of the '50s play Reno:

Fabian was the Justin Bieber of his day.
He was one of the reigning teen idols of the late '50s and '60s. Later, as part of his concerts, he would show clips of the days when he had to flee screaming mobs of girls.

---
Golden-Retriever-Magic.com 2009 Fabian Anthony Forte is a man of innumerable talents. Better known by his moniker Fabian, he is perhaps the original American Idol of the 50s and 60s. His soothing voice and devilish good looks mixed with his ebullient personality were the perfect combination to drive all of his fans wild.

---
Hillary Clinton has a crush... Fabian!:

November 18, 2009 While in the Philippines, Secretary of State Hillary Clinton is asked if she ever had a crush on anyone other than her husband, Bill.
---